Defining Elements
Text by Lynn Bakeman
Photos by Geoff Shirley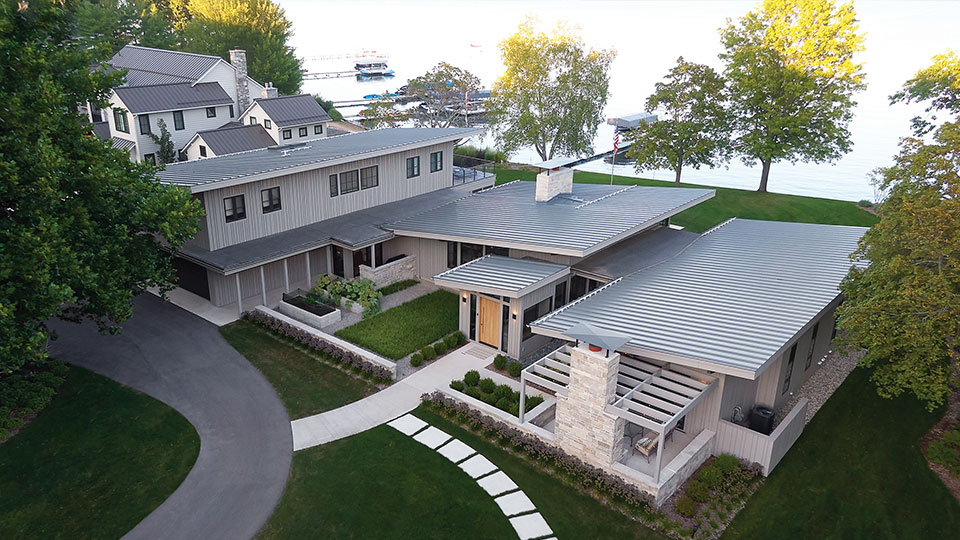 Mid-century modern architecture is recognized for its iconic flat roofline, angular, clean lines, and asymmetrical profile. Expansive walls of glass and wide open floor plans include multiple access points to the outdoors, inviting a unique connection with nature.
Emerald-green Gull Lake is a strikingly deep, clear lake and one of only a few lakes in southern Michigan born of glacial origin 14,000 years ago. Historically a popular summer getaway for regional tycoons including the Upjohn, Shakespeare, and Kellogg families, Gull Lake is mostly developed and this extra wide lot was a rare find.
Although located in Texas, the homeowners have a family connection on Gull Lake and wished to create a home they could fill with people for enduring summer memories. An existing mid-century home stood on the site which was unsuitable for renovation, but served as the family's design inspiration.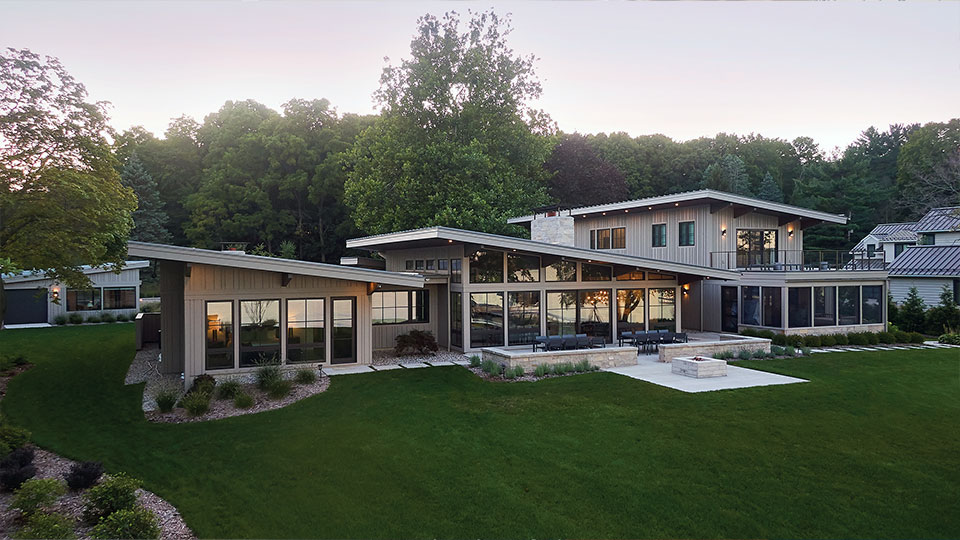 A local builder recommended Jeff Visser, owner of J. Visser Design, for his passion to design intentionally organic homes which blend harmoniously with their setting. His overarching mid-century vision dovetailed with the homeowner's and elevated this work earning the title of "The 2020 Cosmopolitan Home of the Year."
To undertake this long-distance build, the homeowners flew in for the more critical face-to-face meetings, but with today's technology and 3-dimensional imaging, J. Visser Design was able to help these clients clearly visualize the home design. Jeff finds it extremely helpful at the start, however, to meet in person.
"There are efficiencies to using technology to move along a house build, but at the beginning when you're designing something as intimate as a personal home, reading subtle cues and reactions in their face and body language is impossible to replicate otherwise."
Running parallel to the lake with its front approach set back from the road allowed Jeff to design a home with transparency. Spreading out in a linear fashion created three wings of separate spaces for privacy, plus expansive glass allowing front to back views and flooding the interior with natural light.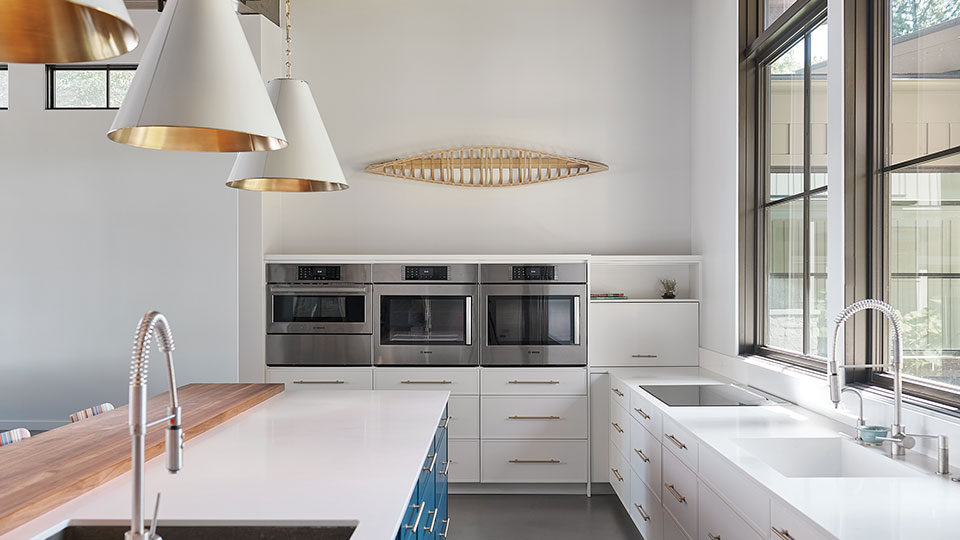 "I have a pretty strong opinion in terms of how light should come into spaces," Jeff explained. "The path of the sun across the site also helped decide the open front-to-back view. From the main living areas to all the outdoor entertainment spaces, this keeps the family visually connected."
First popularized in the 1950s, the American architectural movement boomed when soldiers returned from World War II, and suburbs all over the U.S. sprouted mid-century modern or Frank Lloyd Wright's prairie-style homes.   
Today, mid-century modern architecture is reinterpreted with state-of-the-art building materials, yet the overall design aesthetic of clean sculptural lines transcends time.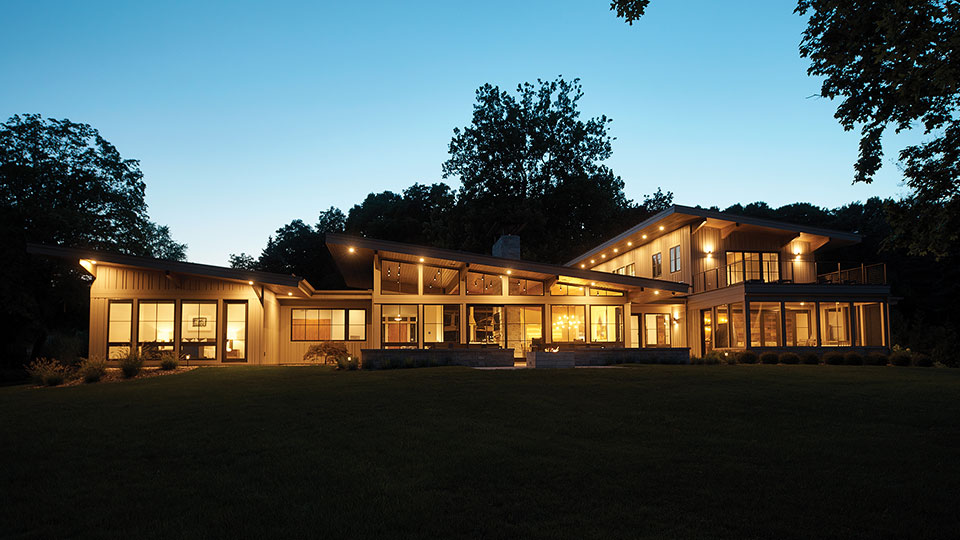 Scott Branc, owner of New Urban Home Builders, was the ideal builder choice not only for his shared appreciation of the form and function of mid-century architecture, but because of his keen eye for the smallest details. "We simply like good architecture, no matter the style," states Scott. If you're leaning toward modern, however, New Urban Home Builders has the expertise to ensure this more demanding construction style is executed flawlessly.
"Typically, our goal on a remote build is to conduct a weekly virtual walk-through with our clients to help them understand and gauge progress," shared Scott. "We also use Buildertrend construction management software which gives our clients access to a portal where they can see things like pictures, schedules, budgets, and change orders.
For local clients, we have standing weekly meetings to keep open communication and to help manage expectations. In this instance, we had a very involved design team; so Morgan in Dallas and Jeff led the client communication."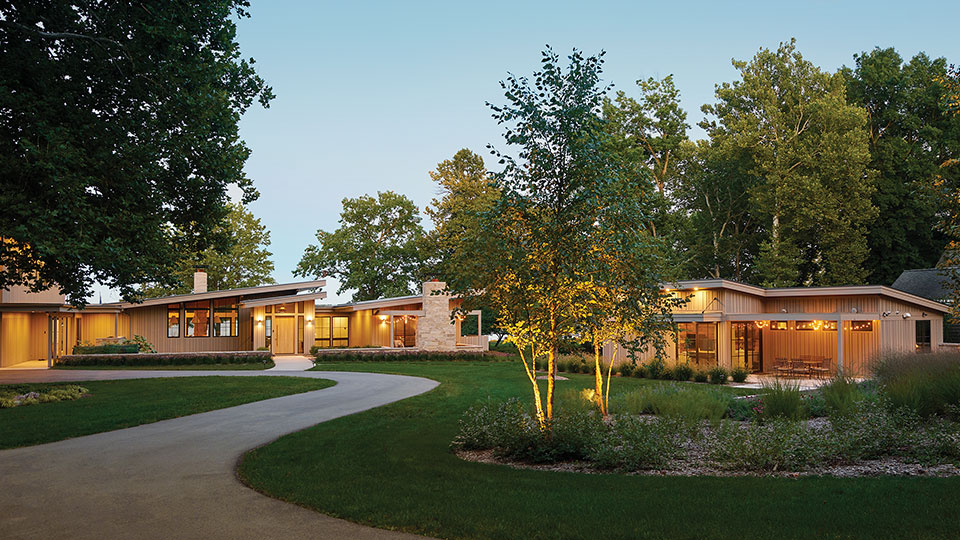 As a former engineer, Scott engages in creative problem-solving to resolve challenging structural issues that may affect a solid, well-built home. Scott explains, "The simple and clean attributes of mid-century architecture actually demand much more detail work and precision. Everything from foundation and framing all the way through construction has to be carefully thought through in advance because some components might need to be incorporated into the framing of the house, where in normal situations you would tackle those details after drywall and trim."
The team collaborated best in tandem with the homeowner's working familiarity with Morgan Farrow of the Dallas, Texas-based Morgan Farrow Interiors. This full-service interior design firm was instrumental in complementing the home's suitably minimalist vibe.
The land surrounding Gull Lake is mostly loamy peat and silt formed from glacial outwash which tested Scott's engineering prowess. With its wide expanse of windows, beams, and open floor plan, the structural members or load-bearing components necessitated careful consideration.
The main house is cradled atop 118 helical piers; steel screws that auger into undesirable soil–in this instance about 30 feet deep–until they reach the correct torque below. The piers transfer structural load into a lower layer of secure, stable material. Additionally, the height of its crawl space was carefully calculated to keep the home above the water table while simultaneously as low to the ground as possible for aesthetic purposes.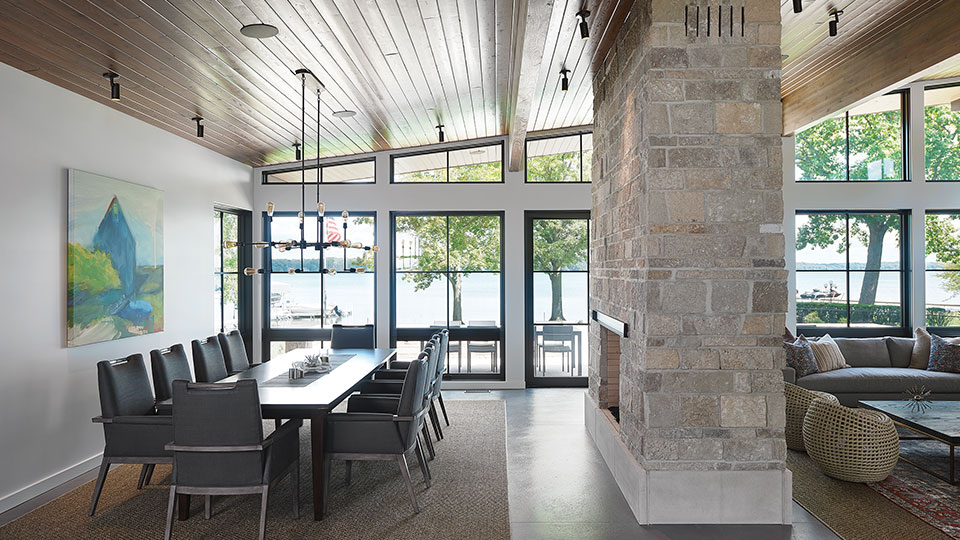 Cantilevered roof lines allow for high windows to maximize natural light. Jeff elaborates, "Stylistically, with so much roof, I wanted only the sleek silhouette of the roof to be the emphasis, so what you see from the entrance or lake is a series of angles all slanted in the same direction. On the structure, oversized beams extend from the exterior all the way through the house running front to back."    These strong lines become especially striking at night with this home's transparency.
Jeff pulled the front entrance forward and created its own roof line to set the tone for entering the home. Tongue and groove cedar soffit also flows uninterrupted through the main floor ceilings continuing outside the back roof soffit. Honoring the mid-century style, Scott didn't want to trim the ceiling around beams that double as a structural roof system plus interior design element. He worked out a way to slide the ceiling over the top of the beam; yet another example of the importance of creative teamwork honoring architectural detail.
An 8-foot-tall, white oak front door was custom-built by R & J Raven of Grand Rapids. Scott has a long history of using this company as they consistently come through with solid quality and eye-catching, functional hardware. Custom components also require the builder to think outside-the-box to install structural door supports and hinges for proper function.
The homeowners wanted bullet-proof stained concrete floors with family-friendly radiant floor heat. Installed over a crawlspace that was fully engineered to support the weight, all the ductwork, chases, and plumbing had to be meticulously pre-planned prior to pouring four inches of concrete.   
The double-sided great room fireplace is a true masonry fireplace so Scott had to ensure there were helical piers below to support that weight. He also had to ensure fresh airflow into the fireplace from below. Note that the vertical lines near the top of the fireplace is actually a return air vent for the heating and cooling system that was ingeniously incorporated into the stone so it wouldn't be distractingly visible elsewhere.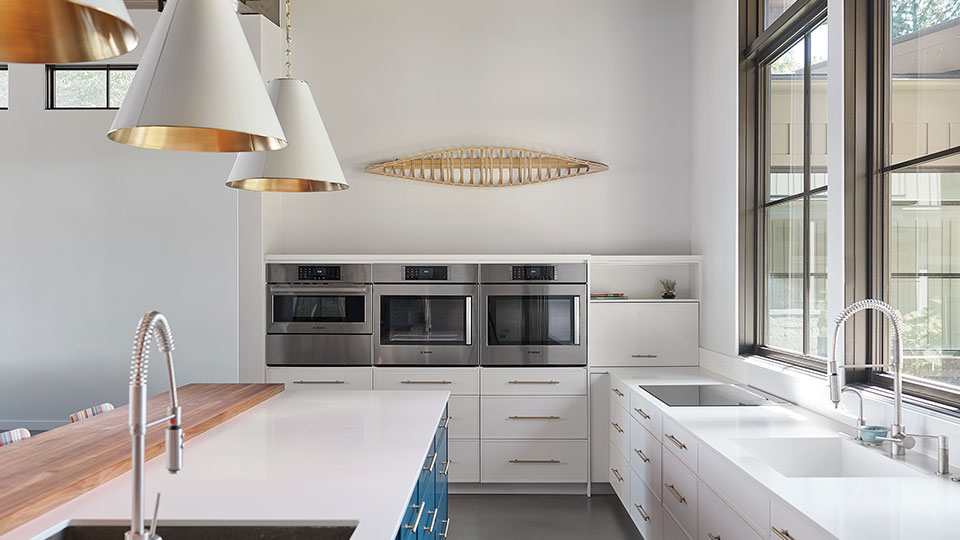 The kitchen is built for large-scale entertaining with a speed oven, two wall ovens, and microwave; and separate column freezer, refrigerator, and wine cooler. A graceful walnut waterfall dining bar adds a warm touch to the space. The kitchen sink was custom-crafted out of quartz to be flawlessly incorporated into the countertop.
Connecting with nature using multiple outdoor access points is key to mid-century architecture, and this home features a 20-foot bifold steel and glass wall that folds and stacks opening up to the screened-in porch. These doors are far more convenient and practical than conventional sliding doors, and the oversized glass panels create an illusion of space by seamlessly merging the two areas.
A steel door closes off the family room from the recreation porch so the bifold doors can be open without affecting the noise levels and temperature of the rest of the home.
The second story wing gives children and their guests room to ramble with multiple beds in each room and a double Jack and Jill bathroom set-up.
Separated from the great room by an office, the adult wing's sleeping quarters are peaceful, sound-deadened sanctuaries, and consist of the homeowner's and in-law guest suites. The homeowner's suite faces the lake, while the guest suite opens to the front of the home buffered by its own private outdoor fireplace and pergola.
The detached guest house was originally a garage that was renovated to have a bedroom, kitchenette, and a bocce ball court. Scott researched the proper materials necessary to construct the level playing field including several dedicated layers of specific materials, and finished with wooden bumpers around the perimeter. Michigan weather dictated hidden drains to properly remove water into a drain tile field.
All the stone used in the home is Fond du Lac stone quarried out of Wisconsin. This quality natural material ages beautifully without the need for excessive care and maintenance.
Plentiful outdoor amenities make this home the ultimate summer haven including an outdoor shower, fire pit, and swinging daybed for lazy afternoons on the porch. For the fire pit and garden planters, Scott used a technique called board-formed concrete which leaves the grain of the wood supports in the concrete after they're removed. "Although not necessary, a hardscape detail like this adds texture and an architectural element to the home.
By annually awarding homes such as this, Cosmopolitan Home continues to reveal the depth of transformative talent available in West Michigan. From any angle, this home can be appreciated for its iconic lines embracing its natural setting. Recognizing the inspiration of mid-century modern architecture to accomplish this goal, the efforts of Scott Branc, Jeff Visser and Morgan Farrow elevated the construction and design to achieve recognition as "The 2020 Cosmopolitan Home of the Year." Congratulations to all.