Elite Style, Design & Performance
Waterproof & worry-free products from Shaw Floors
Luxury vinyl flooring is the fastest-growing and preferred product category today. Designers love it for its versatility and ultra-realistic visuals. These products can be installed anywhere in the home, allowing for a cohesive design element that brings the home's aesthetic together. Advancements in digital printing and embossing technology also allow you to achieve a high-end hardwood look for a fraction of the cost.
Installers love luxury vinyl for its simplicity and ease of installation. Whether you're tackling a DIY project or hiring a professional installer, these products can often be installed and lived on in the same day, minimizing the disruption of a remodel project and taking much of the stress and mess out of the equation.
Finally, homeowners love the value and worry-free upkeep of luxury vinyl. Simply sweep and mop regularly to keep floors shiny, clean and beautiful for years to come. These products boast leading performance and peace of mind — and Standale Home Studio offers the full suite of 100 percent waterproof options from Shaw Floors.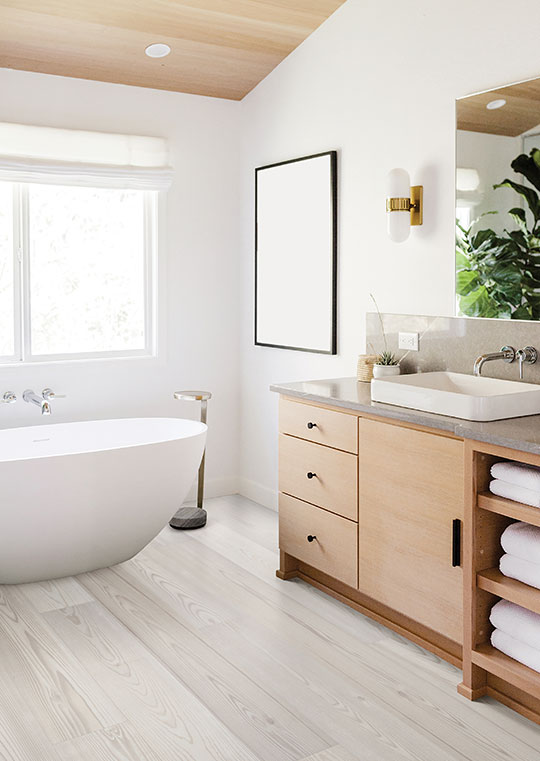 Meet Elite
Built to endure, Floorté waterproof planks and tiles from Shaw Floors offer a variety of beautiful, durable and affordable options. All Floorté styles are 100 percent waterproof, making them perfect for active households prone to spills and accidents from kids and pets. Newest to the Floorté lineup of styles is Floorté Elite, featuring two cutting-edge innovations: Enhanced Natural Realism and ultimate scratch resistance.
Enhanced Natural Realism is a new embossing technology that captures high and low gloss levels in the same plank – something no other luxury vinyl product can achieve! Knots and graining in the planks also boast 3D texture. This more closely mimics the look and feel of real hardwood, but in a 100 percent waterproof product that can better withstand life's little mishaps.
What's more, Floorté Elite promises 'elite pet protection' backed by a 15-year residential scratch warranty. Thanks to its PAWdefense™ technology, Floorté Elite guards against pet nails, dining room chairs and other common household activities by resisting surface level scratches.
Shop all the latest Floorté styles and meet with a trusted flooring expert at Standale Home Studio, located in the heart of Standale Michigan. Let Standale take you from inspiration to installation, we look forward to serving you.
By Sam Rich, Studio Manager for Standale Home Studio, in partnership with Shaw Floors